What is Natural Computing?
Natural Computing is the study of computational systems inspired by Nature, including Physical, Social and Biological Systems.
With the ever-increasing deluge of complex data arriving at unimaginable speeds we need automated and autonomous Smart Systems to undertake Advanced Analytics in order to detect patterns, induce models and make predictions to facilitate decision making in a constantly changing environment.
These Smart Systems draw upon Natural Computing, Artificial Intelligence and Machine Learning to develop artificial evolution, social learning, immune systems, and brains in software to perform advanced analytics, which adapt over time to the changing environment.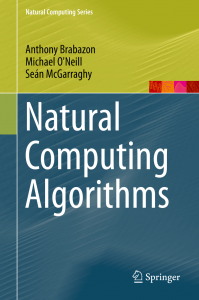 A good (we're not biased!) overview of Natural Computing can be found in our book published by Springer on Natural Computing Algorithms by Anthony Brabazon, Michael O'Neill and Seán McGarraghy.
Applications
As well developing smart systems and problem solving tools, UCD's NCRA has a strong tradition of applying these tools to a broad range of problem domains including Business Analytics, Autonomic Communications Networks, Creativity, Design and Music Composition, Sports Analytics, Finance, Computer Science, Automatic Programming and Program Synthesis, Architecture, Energy Networks, Game Artificial Intelligence, Ecosystem Modelling, Sound Synthesis and Engineering. You can find examples of applications through our Research Projects page.
Short History of the Group
The Natural Computing Research & Applications Group was co-founded by Prof Michael O'Neill and Prof Anthony Brabazon (UCD School of Business) on the 1 January 2006 when Mike joined the UCD School of Computer Science.
During the first nine years (2006-2015) the group resided in UCD's Complex & Adaptive Systems Laboratory (UCD's Institute for interdisciplinary research), which provided discipline-neutral space to allow its researchers from the School of Business and School of Computer Science to sit alongside each other (off-campus in 8 Belfield Office Park 2006-2014 and then UCD O'Brien Centre for Science (East) 2014-2015).
Following recruitment of Dr James McDermott, Dr Miguel Nicolau and Prof Michael O'Neill by the UCD School of Business, the group was no longer in need of College-neutral space provided by CASL, and on 5th October 2015 the group moved to the UCD Michael Smurfit Graduate Business School, Carysfort Avenue, Blackrock Campus.
In 2011 we hosted the ACM Genetic & Evolutionary Computation Conference (GECCO) in Dublin during 12-16 July, attracting over 600 delegates from 52 countries. Tony & Mike co-founded the EvoBAFIN event, which has been running annually since 2007 co-located at the EvoStar events. EvoBAFIN is themed around Evolutionary and Natural Computation in Business Analytics, Economics and Finance. In more recent times we have hosted The 7th International Conference on theTheory and Practice of Natural Computing (TPNC, 12-14 Dec 2018), the 3rd conference on Computer Simulation of Musical Creativity (CSMC, 20-22 August 2018), and MusTWork 16 (10 June 2016).
Funding & Collaborators
The group has won over €7 Million in research funding from agencies including Science Foundation Ireland, Enterprise Ireland, Irish Research Council, NDRC and Failte Ireland.
Industry collaborators have included ICON Plc, Bell Labs Ireland, StatSports, ESB Networks, Citi and Fidelity Investments.
Awards
UCD's Natural Computing Research & Applications Group have won the Gold HUMIES Award presented at the ACM GECCO 2019 conference in Prague, and the Bronze HUMIES Award presented at the ACM GECCO 2017 conference in Berlin.